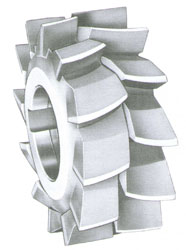 Overlapping Side-Milling Cutters
Aber Overlapping Side-Milling Cutters are made in two sections, and are intended for slotting cuts where a specified width must be accurately maintained. The curved teeth converge toward the center and the teeth of each section alternate in entering the work to provide smoother cutting and minimize shock. The wave effect also provides added cutter strength. Because the teeth angle toward the center, these cutters are ideal for milling radius corners and chamfers.

Even after Aber Overlapping Side-Milling Cutters have been sharpened on the sides, it's still easy to make accurate width cuts. You simply insert arbor shims between the two sections to maintain the specified width. The design of the cutter prevents the possibility of a ridge forming in the center of the cut, even after many, many grindings.
| Catalog Number | Diameter | Total Width Face | Size Hole | No. of Teeth |
| --- | --- | --- | --- | --- |
| | | | | |
| --- | --- | --- | --- | --- |
| M-10 | 3" | 9/16" | 1" or 1-1/4" | 12 |
| M-11 | 3" | 5/8" | 1" or 1-1/4" | 12 |
| M-12 | 3" | 3/4" | 1" or 1-1/4" | 12 |
| M-13 | 3" | 7/8" | 1" or 1-1/4" | 12 |
| M-14 | 3" | 1" | 1" or 1-1/4" | 12 |
| M-15 | 3" | 1-1/4" | 1-1/4" | 12 |
| M-16 | 3" | 1-3/8" | 1-1/4" | 12 |
| M-17 | 3" | 1-1/2" | 1-1/4" | 12 |
| M-18 | 3" | 1-3/4" | 1-1/4" | 12 |
| M-19 | 3" | 2" | 1-1/4" | 12 |
| M-20 | 3" | 2-1/4" | 1-1/4" | 12 |
| M-21 | 3" | 2-1/2" | 1-1/4" | 12 |
| M-22 | 3" | 2-3/4" | 1-1/4" | 12 |
| M-23 | 3" | 3" | 1-1/4" | 12 |
| M-24 | 4" | 9/16" | 1" or 1-1/4" | 16 |
| M-25 | 4" | 5/8" | 1" or 1-1/4" | 16 |
| M-26 | 4" | Ύ" | 1" or 1-1/4" | 14 |
| M-27 | 4" | 7/8" | 1" or 1-1/4" | 14 |
| M-28 | 4" | 1" | 1" or 1-1/4" | 12 |
| M-29 | 4" | 1-1/4" | 1-1/4" | 12 |
| M-30 | 4" | 1-3/8" | 1-1/4" | 12 |
| M-31 | 4" | 1-1/2" | 1-1/4" | 12 |
| M-32 | 4" | 1-3/4" | 1-1/4" | 12 |
| M-33 | 4" | 2" | 1-1/4" | 12 |
| M-34 | 4" | 2-1/4" | 1-1/4" | 12 |
| M-35 | 4" | 2-1/2" | 1-1/4" | 14 |
| M-36 | 4" | 2-3/4" | 1-1/4" | 14 |
| M-37 | 4" | 3" | 1-1/4" | 14 |
| M-38 | 5" | 9/16" | 1-1/4" | 18 |
| M-39 | 5" | 5/8" | 1-1/4" | 18 |
| M-40 | 5" | Ύ" | 1-1/4" | 18 |
| M-41 | 5" | 7/8" | 1-1/4" | 18 |
| M-42 | 5" | 1" | 1-1/4" | 18 |
| M-43 | 5" | 1-1/4" | 1-1/4" or 1-1/2" | 18 |
| M-44 | 5" | 1-3/8" | 1-1/4" or 1-1/2" | 16 |
| M-45 | 5" | 1-1/2" | 1-1/4" or 1-1/2" | 16 |
| M-46 | 5" | 1-3/4" | 1-1/4" or 1-1/2" | 14 |
| M-47 | 5" | 2" | 1-1/4" or 1-1/2" | 14 |
| M-48 | 5" | 2-1/4" | 1-1/4" or 1-1/2" | 14 |
| M-49 | 5" | 2-1/2" | 1-1/4" or 1-1/2" | 14 |
| M-50 | 5" | 2-3/4" | 1-1/4" or 1-1/2" | 14 |
| M-51 | 5" | 3" | 1-1/4" or 1-1/2" | 14 |
| M-52 | 6" | 9/16" | 1-1/4" or 1-1/2" | 24 |
| M-53 | 6" | 5/8" | 1-1/4" or 1-1/2" | 24 |
| M-54 | 6" | Ύ" | 1-1/4" or 1-1/2" | 24 |
| M-55 | 6" | 7/8" | 1-1/4" or 1-1/2" | 24 |
| M-56 | 6" | 1" | 1-1/4" or 1-1/2" | 22 |
| M-57 | 6" | 1-1/4" | 1-1/4" or 1-1/2" | 18 |
| M-58 | 6" | 1-3/8" | 1-1/4" or 1-1/2" | 18 |
| M-59 | 6" | 1-1/2" | 1-1/4" or 1-1/2" | 18 |
| M-60 | 6" | 1-3/4" | 1-1/4" or 1-1/2" | 16 |
| M-61 | 6" | 2" | 1-1/4" or 1-1/2" | 16 |
| M-62 | 6" | 2-1/4" | 1-1/4" or 1-1/2" | 16 |
| M-63 | 6" | 2-1/2" | 1-1/4" or 1-1/2" | 18 |
| M-64 | 6" | 2-3/4" | 1-1/4" or 1-1/2" | 18 |
| M-65 | 6" | 3" | 1-1/4" or 1-1/2" | 16 |
| M-66 | 8" | Ύ" | 1-1/4" or 1-1/2" | 28 |
| M-67 | 8" | 7/8" | 1-1/4" or 1-1/2" | 26 |
| M-68 | 8" | 1" | 1-1/4" or 1-1/2" | 26 |
| M-69 | 8" | 1-1/4" | 1-1/4" or 1-1/2" or 2" | 24 |
| M-70 | 8" | 1-3/8" | 1-1/4" or 1-1/2" or 2" | 24 |
| M-71 | 8" | 1-1/2" | 1-1/4" or 1-1/2" or 2" | 24 |
| M-72 | 8" | 1-3/4" | 1-1/4" or 1-1/2" or 2" | 24 |
| M-73 | 8" | 2" | 1-1/4" or 1-1/2" or 2" | 24 |
| M-74 | 8" | 2-1/4" | 1-1/4" or 1-1/2" or 2" | 24 |
| M-75 | 8" | 2-1/2" | 1-1/4" or 1-1/2" or 2" | 24 |
| M-76 | 8" | 2-3/4" | 1-1/4" or 1-1/2" or 2" | 24 |
| M-77 | 8" | 3" | 1-1/4" or 1-1/2" or 2" | 24 |